[MIXTAPE] Cap 1 X OJ Da Juiceman- Clock Werk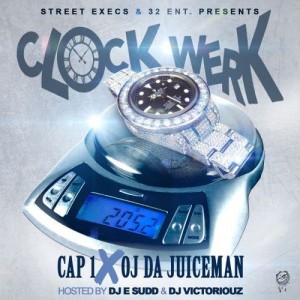 Southern Heavyweights Cap-1 (T.R.U./Two Gun Gang) & OJ Da Juiceman (32 Ent/Asylum Records) link up for some much needed new trap shit.
Collaborators: Young Dolph, 8-Ball, 808-Mafia, Zaytoven and more.
Artist: Clyde Carson
Social Media: OJ Da Juiceman on Twitter & Cap 1 on Twitter
Project: Clock Werk (Hosted by DJ E Sudd & DJ Victoriouz)
Download: Download over at Hot New Hip Hop
Notes: This stuff reminds me of some old Gucci/Waka/OJ.